Nice sauna. Why not do bedrooms this way?
Saunas take up a lot of space, given that they are not used that much of the time. So the German company Klafs has invented one that is made of three telescoping sections. Folded up, Designboom says it is "roughly the size of a bookcase" although at two feet deep it is more like the size of a closet. Extended, it is 5'-4" inside, which is cozy but comfy for a sauna.
© Klafs via Designboom
It looks rather silly sitting there in a living room in the photo above but doesn't look too out of place in the kitchen area.
© Klafs via Designboom
Really, this is like a blown up version of drawer hardware with a room built on top. It begs the question: Why not make other rooms, like bedrooms, like this? It is probably quite quiet inside (if it is insulated well enough for a sauna it would have to be) it could shrink to closet size in the daytime and pull out to full room size at night.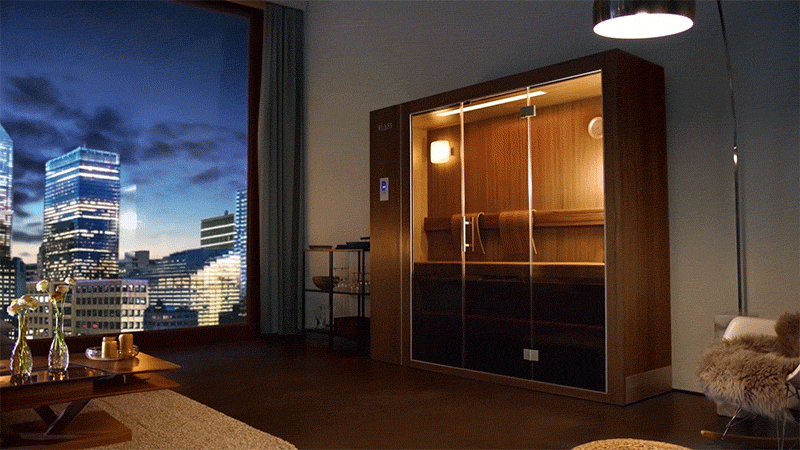 Gif via Contemporist
All of the installations on the Klaf site and on Designboom look like it was just plopped in a room rather than integrated into the structure, but conceptually rooms could be made to almost disappear in the daytime. It might even be a solution for families in tiny houses- the incredible shrinking bedroom.
© Klafs
They have even figured out a folding bed, though I am not sure about the pillows. More on Designboom
Nice sauna. Why not do bedrooms this way?
It expands to three times its stored size