A flatpack pot: hot or not?
Over on BoingBoing, Cory Doctorow loves the idea of this collapsible silicone pot from Sea to Summit. He says that he would have "loved to have several of these in our teeny, tiny London kitchen."
It is a clever thing, coming with an aluminum bottom and silicone sides that can take quite a bit of heat. Cory notes that there are a lot of complaints about the build quality on Amazon, but says "If someone went into business selling broad-bottomed pots with better build quality, I think they'd find a huge market."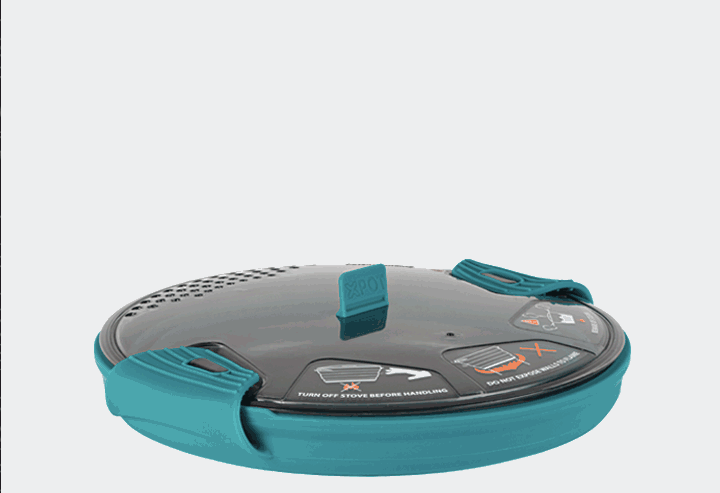 Gif via BoingBoing
I am not so sure. Back when we were looking at living with less for Graham Hill's LifeEdited project, I made the case for
learning from camping equipment.
One product I showed was Snowpeak's stacking pots and pans and wondered "Why do camping equipment designers make pots and pans that all stack together and take up the space of only the largest pots, while a regular pot and pan set takes up an entire drawer?"
At least the Snowpeak design is a traditional pot made of traditional materials like stainless steel or titanium. there is no joint between the bottom and side. I am not sure that you could actually build a silicone-sided pot that would last as long or work as well as a solid metal one. Fundamentally it is a sort of hybrid of different materials that have different properties. Silicone is also an insulator, so any heat that goes up the side of the pot (and there is a lot of it, remember that rocket pot) If I was worried about a tiny kitchen like Cory Doctorow is I would still go with camping gear, but go for the stacking Snowpeaks.
While I have always been a sucker for flatpack designs that can slip under a door, I am not sure about a flatpack pot. What do you think?
A flatpack pot: hot or not?
It does take up a lot less space, but there are issues.